The Family Tree, written by Great Uncle Leo Fortier
The Family Tree
T'was in January eighteen ninety-nine,
Dad asked Mother "Will you be mine?",
This was the beginning to be,
What is now the Fortier family tree.
In October of that same year
Was born their first little dear,
They said, "See how she glows!"
Our first little girl, we will name Rose.
Many days of hard work they did
In the mills known as Amoskeag,
This they did with a will,
In January nineteen one they had a son Bill.
From hardwork they took no chances,
The trunk of the tree now had two branches,
From this great trunk more was to grow,
For in September nineteen two came Joe
Life was filled with many joys
With the one little girl and two little boys,
They would do things quite uncanny,
To help them, February nineteen four along came Annie.
A move now they decided to make,
A house on the hill in Pike they would take,
This they did with problems many,
They nearly forgot, May nineteen five it would be Henry.
The tree now had branches five,
All of them were quite alive,
To dances Mother and Dad went, Dad with a little cider,
To the glee of the five October nineteen six they were joined by Ida.
The three now was outgrowing its nest,
A move had to be made for the best,
A new job at a sawmill,
This would be in East Haverhill.
Dad's day was long and hard in the mill,
Ma's day at home as long, but she done it with will,
To clothe and feed they planned like beaver,
For June nineteen eight they would have Eva.
The neighbors were close and joyous,
They would get together and sing as in chorus,
One of the girls next door was Ora,
So in June nineteen ten Ma named her next Cora.
The tree now eight branches it had,
Anohter move to Ma said Dad,
There is only room for one more bed,
In August nineteen twelve it was filled by Fred.
Next door was their new homestead,
This would give them more room not just one bed,
For more room the planned by chance,
Some would they need in May nineteen fourteen for Blanche.
They had a cow, chickens and a hen,
A horse and buggy, a pig in a pen,
In jars went berries and vegetables, pickles in vinegar,
Along came August nineteen fifteen a girl Virginia.
The trunk of the tree was now a prize
To hold all of the branches of a different size,
War One in Europe was now on the start,
It would bring the flu of which the family was a part.
During this sickness there was scacrifice and giving,
Dad said to Ma, "we are sick but we must make a living."
The fever was as hot as the fire at which played Nero,
During this January nineteen nineteen epidemic was born Leo.
The tree was growing, so was each branch,
From these one could see twigs at a glance,
Love around this tree was an aroma,
Such as it was May nineteen twenty-three along came Dora.
The tree now had all its branches,
To keep it from harm they took no chances,
Life was hard during the depression,
They had the family around them, they showed compassion.
The family now started to leave
To start branches on their family trees,
With a start Ma and Dad did wonder,
Here we are with just the two younger.
Each tree must lose a branch in time,
It happened to this tree, it seemed a crime,
June nineteen thirty-seven shattered was this life sublime,
Henry was taken by the volts of a high tension line.
The trunk of this tree was strong you could tell,
It quivered a little but never fell.
Life had to go on as before,
This Ma and Dad knew quite sure.
Life went on as best could be,
World War Two didn't shake this tree,
It was standing strong and stout,
Many sprigs from the branches did sprout.
This tree was now five decades or more,
The twigs on the branches came to more than two score,
Another branch now would depart,
September nineteen fifty-eight Joe was taken with a bad heart.
The trunk and the rest of the branches stood tall,
Ma and Dad knew we wouldn't let this tree fall,
It stood straight and tall till nineteen sixty-eight
In February God Ma did take.
There now was a scar on the trunk,
But from it the branches never shrunk,
The tree now was old it was growing late,
Another scar in August sixty eight God Dad did take.
Before he left he said to me, "Don't let these branches part."
I said, "Dad i think it is only a start.
We will keep this old tree intact,
Some way we'll do it, some act."
As time went on God would call,
Two more branches would fall,
It was Cora first in January seventy-nine,
February nineteen eighty Bill wasn't far behind.
The branches grew closer you could see,
They were doing all they could to protect this old tree,
What to do, what was the conclusion,
It was decided to hold a reunion.
From heaven above they gaze at the action,
A smile crosses their face wtih satisfaction.
"As one said," Dad remarked, "it was only a start."
How right he was, those branches never did part.
As you read this and ponder,
What will happen to this tree you wonder,
Worry not, as you well can see,
In heaven God has started another Fortier family tree.
Leo
June1983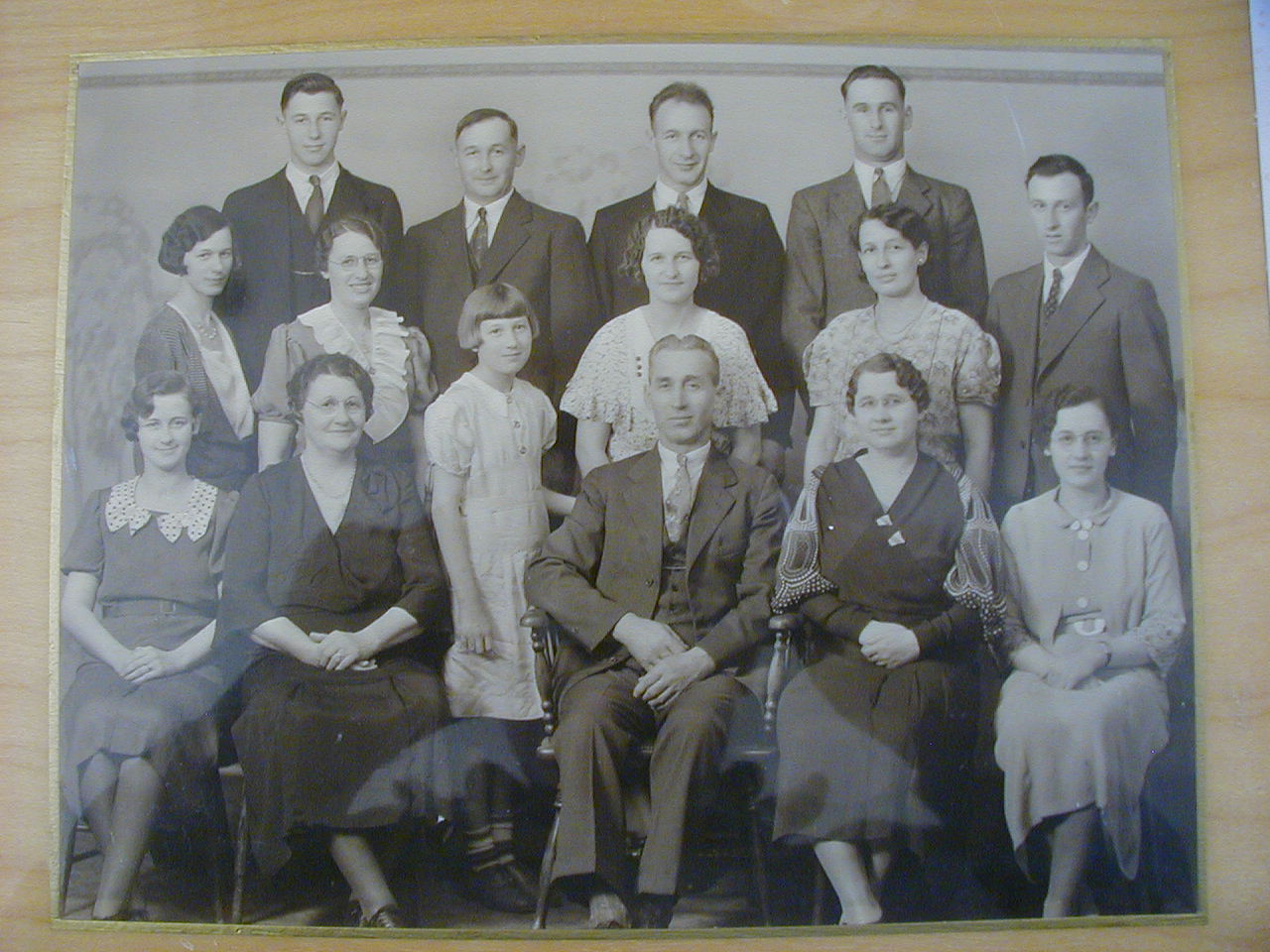 I have only met a few people from this image. With some of what you read above, a few weren't even alive when I was born. My great aunt Rose is seated to the right of great grandfather Cyrille. She's a splitting image of my great grandmother Adelaide (Derosier) Fortier. Then there's aunt Dora. She's the youngest – standing. My aunt Ginny (Virginia) is there, but I'm not sure if she is immediately left of Dora. I say that because of her smile. Otherwise I'd guess she's the one sitting to Rose on the far right. My grandmother, Blanche, is sitting on the far left.  Despite not being the youngest of them all, Dora was, she passed away in Sept of 2006 at the age of 92.
For the size of the family, there's not a lot of them around. At least from the recollection of my father. Many were married and had 1-2 children, but few had any more than that. My grandmother, Dora, and Ginny were the closest. Probably because of their closeness in age and location. Dora and grams lived in Connecticut, while Ginny lived in Vermont. Ginny and Dora each had a son. Dora's son Jim was my fathers side kick growing up. I'm sure Jim was his favorite cousin. My father is not a spring chicken and the baby of  all the offspring, so I'm lead to believe that there are not many of his cousins around and I can't say if his generation had kids. There's a chance, but I've never met any of them. These would be considered 3rd cousins, etc.
I posted a version of this on Google+ but I felt that, while interesting, it was probably not the forum for something more personal.  Some would have found it mildly interesting, but a bit odd to read from a complete stranger so I moved it over here adding some of the commentary.