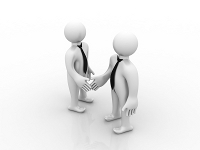 Look on Linkedin, check hash tag #jobs on Twitter, or check on popular job sites and you're bound to come across a job opportunity posted by a staffing firm. Ninety plus percent will not list the client (this is to prevent competitors going after your clients), the client being the company that needs a qualified candidate. You go ahead and apply, but never really know what happens after that.
Once you apply to the position, like any job you apply for, your information gets entered into a database and staff will get notified or realize there is a new submission. This happens in companies that have their own applicant tracking systems (ATS), not just staffing firms.
The recruiter screens the resume, skills, etc, and determines if you're 1) qualified for the role you applied to or 2) qualified for any role that the firm may represent. If you meet either, expect a call.
If you have met with the firm in the past 6 months, the recruiter will tell you about the position, blow you off, or reach out to you to see how your job search is coming. This last part generates leads for the firm. Again, we'll talk about that later.
If you have NOT met within a certain time frame, longer than the aforementioned 6 months in some cases, the staffing firm may have you come back in to update paperwork. Some firms require this as part of their process – some are publicly traded and could be a part of Sarbanes Oxley (SOX) compliance, etc. Trust me, it's not to waste your time, it's a process thing. You'd have to do it now or later. When you come in you'll fill out I9 info, W2 for taxes, complete fields on the application not possible online, take skills assessments, and meet with a recruiter. The recruiter will need to get certain information – job history, gaps in employment, confirm salary expectations, ask how your job search is coming/where else you applied/gather leads for sales, discuss your availability, gain rapport, etc. If you are qualified for an open position, the recruiter will pitch it to you. If there are no open positions that fit your experience/background, you'll be given the 'keep in touch' verbiage and a handshake. Good recruiters will setup a follow up time.
So what happened to the position that you applied to?
It could have been filled by a person that was either in the firm's database of previous applicants, or it is still open. In short, unless the position is something hard to find, it gets filled as quick as possible. Firms race against the clock in order to fill the position before a competitor does. Time kills all deals. It is also possible that a qualified candidate could get a job somewhere else, or the competition is not only filling the position, but could be filling it with a person that both parties have access to. The candidate pool in a metropolitan area is the same. It comes down to finding the right person, with right attitude, with the right skills, with the right pay before your competition finds that same person or someone similar.
If a firm calls you for a position they should do the following:
Check Availability – The firm should ask you if you're still available – if the answer is 'no' it's time to move on but not before finding out where you landed. It's a lead and now you've become a potential client.
Have You Applied To… – Have ever applied to 'xyz' company within the last 6 months? Six months is usually a time frame where a firm can resubmit your info had you previously applied to XYZ company in the past. It's to determine a type of ownership. Does the client own the submission or will the firm? If you have applied within last 6 months, the firm could submit your information, but they will want to consult with the company to ensure it is ok and won't get you disqualified based on a double submission. Odds are the firm won't be able to represent you. If you have NOT applied, they'll give you the lowdown on the position….3
Type of Assignment – They should tell you about the arrangement of the job, or project. It will typically be contract, contract to hire (CTH), or direct placement
Length of Assignment – For contract or contract to hire. *  It is important to know, this time is not set in stone. Got it? The client paying the firm for their services could say you smell bad and let you go after the first day. It happens. That's the benefit of a company doing contract/contract-to-hire arrangements, you don't have to commit right away like you do when hiring directly. It is the same reason that you, as a candidate, could put in a two week notice during a contract assignment because you found a full time position. You can decline an offer because you don't want to work there full time. Don't be mistaken, the deal works both ways – candidates AND employers need to understand this. Many don't. The goal of the firm is to have the candidate do a good job, collect their bill rate for the assignment, have the employer love the candidate which reflects well upon the firm that placed them there. There may even be a negotiated fee involved in the hiring of the contractor as a full-time employee. Firms may pressure you to finish the project, but as long as you do the right thing, putting in ample notice, you'll be ok. The firm, and the client may be irked, but that's unfair. Many contractors will be irked when a client drags their feet in making a hiring decision, but they're the ones holding the wallet so the candidate's frustration is not tit for tat, unfortunately.
Pay –  This will be an hourly rate based on the requirements of the position. Understand this – you won't earn more money for the job if you go directly to the client. The firm is NOT taking money away from you in order to make more money.  If the recruiter met you, pay expectations would already be established. If the sales peson talking to the client is not an idiot they would have already quoted an 'up-to' bill rate. It will be agreed upon before you get called. This bill rate is determined, again, by the requirements of the position and the corresponding salary for the market with a certain mark up. Don't be an ignorant. Be informed and you'll be in a good place.
To elaborate more on how pay/bill rate is determined…
The sales person (sometimes referred to as Account Executive, Staffing Specialist, etc) in the staffing firm obtains a request from a client that they have a need for help.
In this example we'll say the client has a need for a Java developer with 5+ years of experience. Skills include: Java, struts, hibernate, and eclipse using subversion for source control. The sales person will also understand a bit about the project and the systems involved along with the make up of the team. It is an open vacancy, newly-created position due to growth. The client wants to see the candidate do the job for 3 months and would then consider making them an offer. Again, this last part is the client's intention – it's not a guarantee. The contract time could go longer, shorter, or the offer may not come at all based on a variety of different reasons: the budget could get cut, the company goes out of business, no longer have a need to hire, etc.
Based on the aforementioned details, the sales person/account exec quotes a bill rate of up to $90 an hour. The sales person will also quote a conversion fee. This should happen even on a contract position. You never know if it starts out as contract and the candidate may end up thinking that you're going to prevent them from joining the company as a full-time employee because of your greed. If you quote it up front, and everybody follows good business ethics, there's no worries.
So the recruiter now knows the deal. They find a person that has 3 years experience as a developer,  but has worked with java and hibernate, but not struts. Well, guess what, you're not going to get paid the same as what a 6+ year Java dev with Java, hibernate, struts, javascript/ajax and DB2 would.  So maybe a more qualified candidate gets offered $45 an hour and the less qualified candidate gets offered $30 an hour.  This dollar rate is typically determined by the recruiter based on the bill rate established by the sales person. Keep in mind, the sales person doesn't want to bill the max. So quoting $90 may be great, it's always nice to have them come back to the client with a lower bill rate for an individual.
"But Sean, firms will want to place the 3 year person so they can make more money. See, I'm no fool. $90 for $30 person is better money than the firm paying a candidate $45 and billing $90. Momma didn't raise no dummy." There are firms that pull these shenanigans. It's BS and it will catch up to them. A reputable firm will present the candidate to the client but adjust the bill rate accordingly. See, I mentioned 'up-to' bill rate of $90. So if the candidate is $30, you're not going to charge the top end. You adjust. The percentage in markup should be about the same no matter how you slice it. Mark ups typically range from 55-120%. There are even some firms that give the client an option. Pick candidate 'A' with less experience but lower bill rate or choose candidate 'B' who may be more ideal, but the rate will be higher. Sometimes clients love to have at least a choice.
Accept or Decline – The candidate should then accept or decline the proposition presented by the recruiter. Do not try going around the firm. It's not an ethical way of doing business. If you don't want to work there, then decline. Going around the firm will get you disqualified and the client won't look upon you in a good light for trying to do this. You'll also burn bridges and people don't forget. It speaks to your character. You can be the best, most qualified candidate, but if you lack ethics and integrity, you're setting yourself up for potential hardship down the road. Don't do it.
Next steps – The firm should then tell you next steps – submit resume, phone interview, face to face interview, or start the job on a specific date and time. Yes, you could go from a phone call to a start date. Clients could have enough trust in the firm to make this happen. Many do not.
That's how you land the job, but what if you don't?
You remain in the database kept in mind for the next open position that matches your background. See, if that new position comes in, it gets posted, somebody else applies to said new position, but the firm already met you. They know your pay, your experience. They'll go to you first.
The Lesson
So you see, by the time you apply to an open position the firm may already have someone in consideration for it. However, the posting does not get pulled down until someone is 1) in the role, or 2) it is cancelled – maybe another firm filled the position or the client reconsidered the need.
Questions on the candidate experience? Let me know. This was a short article on a big part of the process. Don't assume. Get educated. Know how it works!